Gallery
A Cividade Viewpoint

This avant-garde viewpoint, designed by the architect Isabella Aguirre, has a platform 30 metres long, 7 metres wide and 4 metres from the ground. It is built of Corten steel with a Nordic pine floor. It is intended to blend into its environment, as well as providing some spectacular sunsets.
The project began in 2007 following a commission from the Galician Centre for Contemporary Art after some events focusing on landscape intervention and improvement using contemporary artistic criteria, and it was inaugurated in October 2012.
This spectacular lookout point, built on an almost a vertical slope, offers a panoramic view over the end of the Santo Estevo reservoir. Also, on the opposite bank, some of the foothills of the Meda range can be seen.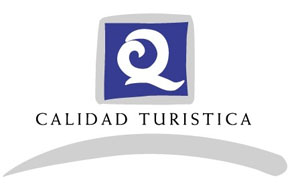 The group of viewpoints of the Sober City Council, including this one, obtained the seal of Tourist Quality of Spain (ICTE). Only five public spaces of this type, in the whole of Spain, have obtained this label until 2021.
Warning: the road from Bolmente (5km) alternates paved road and forest track.
Information and contact

Equipment and Services


Accessibility



What would you improve?