Gallery
1-day route through the Western Sil Canyon



While on the waters of the Sil, gaze at vertical gorges, vineyards spilling down hillsides towards the river, and the lush vegetation. You can set off from a place as special as Santo Estevo de Ribas de Sil: the building of this former convent has been restored and integrated into the National Parador hotel network.
We start out from Ourense, heading towards Os Peares along the N-120 road. Once in Os Peares, we take the hydroelectric service road, which leads us to Santo Estevo jetty.
From there, we can enjoy a three-hour round trip on board a catamaran through the most spectacular stretches of the Ribeira Sacra region, allowing us to marvel at the vertical walls and abundant local vegetation.
Once back at the jetty, we zig-zag up the road towards Luintra. Shortly before arriving at this village - capital of the municipality of Nogueira de Ramuín- we take a detour for a few hundred metres to reach Santo Estevo de Ribas de Sil monastery (now converted into a Parador hotel).
Then, retracing our steps, we rejoin the main road towards Luintra. From there, another road takes us to San Pedro de Rocas monastery: an original building located in the municipality of Esgos. After visiting the monastery, we continue along for a few kilometres until we reach the old Ourense-Ponferrada road (nowadays a local road), which leads us back to our starting point.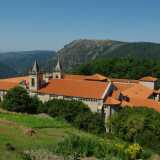 Stop 1
Monastery of Santo Estevo de Ribas de Sil
One of the iconic monasteries of Ribeira Sacra, It is nowadays a Parador (state-run hotel)
The monastery of Santo Estevo de Ribas de Sil is one of the most prominent and spectacular of the rich monumental heritage of Galicia. It was built between the 12th and 18th centuries.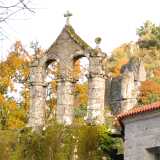 Final
Monastery of San Pedro de Rocas
Recommended time: 45 min
The origin dates back to the 6th century and possibly we are facing the oldest monastery of Galicia
CLOSED SEPTEMBER 18, 2020. Vehicle entry to the complex is restricted.
The monastery of San Pedro de Rocas is located in the hill Barbeirón, surrounded by rock formations that might have given a name to this place.
Accessibility


Landscapes of the river Sil