Gallery
2-day route through the Eastern Sil Canyon



We can take in impressive scenery, such as the Mao river waterfall or the birch forest in the San Mamede mountains.
Setting off from Castro Caldelas, we head towards Monforte de Lemos, before turning off to the left in the direction of A Teixeira. We climb up to A Teixeira (490 m), taking in the impressive panoramic views of the Sil valley.
We will travel along halfway up the hillside, towards the west. We can contemplate the beauty of traditional country houses in Cristosende and marvel at the natural waterfall produced by the Mao river, starting from the Montederramo mountains and flowing into the Sil.
Via the Sacardebois and Chandrexa areas, we reach the municipal capital of Parada de Sil. From there, we make two short return journeys. Firstly, to the Balcones de Madrid viewpoint. Next, to Santa Cristina de Ribas de Sil monastery, which can only be reached down a lonely road, through lush vegetation.
Back on the main road towards Parada, we take the road towards Vilariño Frío. From there, we can make our way to Xunqueira de Espadañedo monastery.
Doubling back, in the direction of Castro Caldelas, we turn off to the right towards Montederramo to visit Santa María monastery, in the municipal capital, and the San Mamede mountains, with their famous birch forest. The old Ourense-Ponferrada road takes us back to our starting point: Castro Caldelas.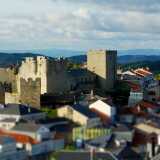 The old town of Castro Caldelas was declared a Historical-Artistic Site in 1998
The old town of Castro Caldelas was declared a Historical-Artistic Site in 1998. It principally comprises the streets leading up to the Counts of Lemos Castle: Calle del Sol and Calle Grande. Cobbled roads which follow their mediaeval course, revealing interesting stone houses adorned with galleries and coats of arms. In one of these houses, now an inn, lived the famous Galician writer and politician Vicente Risco

Stop 1
A Teixeira Viewpoint
Where we can admire the entire Abeleda valley
A Teixeira viewpoint is located on the way down from A Teixeira, towards the village of Lumeares.
From there, we can admire the entire Abeleda valley, overlooked by the remains of San Paio monastery.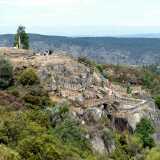 Stop 2
Balcones de Madrid
The Ribeira Sacra's most spectacular viewpoint
One of the most spectacular viewpoints in Galicia, and unquestionably the most breathtaking in the Ribeira Sacra.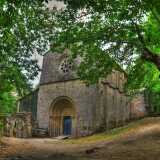 Stop 3
Monastery of Santa Cristina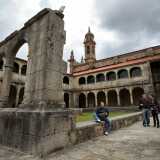 Stop 4
Santa María monastery in Xunqueira de Espadañedo
Throughout its history, this monastery has undergone numerous changes of architectural style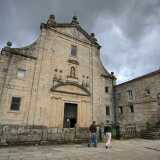 Stop 5
Monastery of Santa María de Montederramo

En la parroquia de Santa María de Abuime (O Saviñao-Lugo) se localizan varios túmulos neolíticos, pero sólo uno de ellos, el dolmen de Abuime, se halla con su cámara al descubierto.
Accessibility


Landscapes of the river Miño