Start
Monforte de Lemos or Ourense



Gallery
Monasteries Route

Monasteries are some of the Ribeira Sacra's finest assets. Discover these magical heritage sites in the interior of Galicia.
We can begin this route from either Monforte or Ourense. If we choose to set out from Monforte, we take the N-120 road, turning off at Ferreira de Pantón to visit San Salvador de Ferreira Monastery; from there, we can rejoin the N-120 towards Ourense, and turn off at Os Peares or, further along, at Penalba. Both routes lead us to Luintra, where we can initially make our way towards Santo Estevo de Ribas de Sil monastery.
If we choose to start out from Ourense, we take the N-120 road and, joining the hydraulic dam service road at Os Peares, we travel along the banks of the river Sil. Although this is a private road built by hydroelectric companies, private vehicles are free to use it. After running alongside the river, the road begins to climb up to Luintra, from where we continue in the direction of Parada de Sil to reach Santo Estevo de Ribas de Sil monastery. This monastery is currently part of the Tourism Parador hotel network, but visitors are free to explore its three cloisters and church, in addition to its interpretation centre, located on the ground floor.
Going back on ourselves, we then rejoin the main road from Luintra to Parada de Sil. On entering this village, you will see a turn off to the left which leads to Santa Cristina de Ribas de Sil monastery, along a tarmac track.
Making our way in the direction of Parada de Sil again (where we can visit the magnificent Balcones de Madrid viewpoint), we take the road which leads us via Hedrada to Vilariño Frío, at the intersection with the old local Ourense-Ponferrada road.
Our next stop is Santa María de Montederramo monastery: the finest example of Herrerian art in Galicia. To reach Montederramo, we travel a few kilometres towards Trives and then take a local road on the right, which heads in towards Montederramo and the San Mamede mountains.
If we return and continue along the old local road, this time in the direction of Ourense, we pass through Vilariño Frío and Alto do Rodicio, which offer incredible views of the Maceda valley. As we descend, we can turn off towards the right to reach Xunqueira de Espadañedo and admire its monastery.
San Pedro de Rocas, in the municipality of Esgos, is our next stop. This highly valued site will captivate visitors, with its blend of rural landscapes and historical heritage, testimony of the first monks to settle in this area, with their tombs carved into the rocks. To get there, we rejoin the local road, passing by the municipal capital of Esgos, and turn off to the right, along a road which leads us directly to the monastery.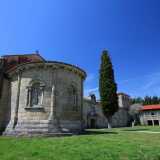 Start
Monastery of San Salvador de Ferreira
The only female monastery that keeps religious life in Ribeira Sacra
The only female monastery that keeps religious life in Ribeira Sacra. Almonst known by Monastery of Bernardas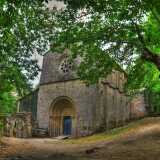 Stop 1
Monastery of Santa Cristina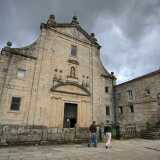 Stop 2
Monastery of Santa María de Montederramo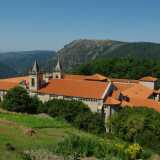 Stop 3
Monastery of Santo Estevo de Ribas de Sil
One of the iconic monasteries of Ribeira Sacra, It is nowadays a Parador (state-run hotel)
The monastery of Santo Estevo de Ribas de Sil is one of the most prominent and spectacular of the rich monumental heritage of Galicia. It was built between the 12th and 18th centuries.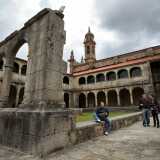 Stop 4
Santa María monastery in Xunqueira de Espadañedo
Throughout its history, this monastery has undergone numerous changes of architectural style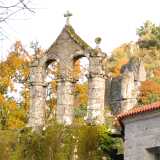 Final
Monastery of San Pedro de Rocas
The origin dates back to the 6th century and possibly we are facing the oldest monastery of Galicia
The monastery of San Pedro de Rocas is located in the hill Barbeirón, surrounded by rock formations that might have given a name to this place.
Accessibility

Monasteries Route
See more...