Gallery
Gold and Oil Route

On this route, you can visit a Roman tunnel carved into the rocks for extracting gold. You can also see how tradition stands the test of time at the mill in Bendilló.
Starting from Quiroga, along the N-120 road between A Rúa and Monforte, we come off at Montefurado (first the tunnel, then the village). The village is home to former Roman gold mines, the clearest remains of which can be found on both sides of the Sil.
Continuing towards Bendilló, you can visit a traditional oil mill; afterwards, head towards Sequeiros, Bendollo, Quiroga and Alto de
Aldriz. Margaride gold mines and Roman bridge in Barxa de Lor. Arrival in Ribas de Sil (Figueiredo, Peites and Piñeira).
O Covallón mine is a particularly worthwhile visit.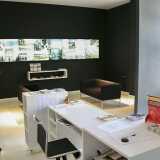 Start
Quiroga Tourist Office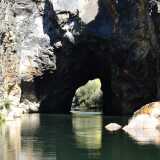 Stop 1
Montefurado Tunnel
Enormous Roman gold-mining site, constructed in the 2nd century AD.
The tunnel runs through the Pena do Corvo and is not natural. In the 2nd century A.D., on the orders of the Emperor Trajan, the Romans pierced through the mountain to get to the gold brought down by the river Sil.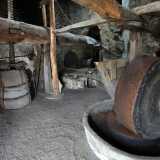 Stop 2
Oil Mill of Bendilló
Old oil mill that continues to produce in an artisanal way
Old oil mill that continues to produce in an artisanal way, wich was rebuilt  in 1993.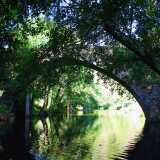 Stop 3
A Barxa Historical Complex
The main feature is a Roman bridge
The main feature is a Roman bridge. Although today this bridge is only for pedestrians, formerly it was the access road for people coming from Leon, in Castilla, to Galicia. Some remains of the medieval roadway can still be seen, as an ancient royal road passes through this area.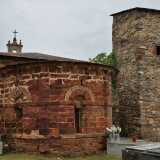 Final
Church and Abbey of San Clodio
Church built in the first half of 12th century
The Abbey was founded over a thousand years ago. In the 12th century it was given to the monks of San Bieito, who remained there until it was confiscated by Mendizábal and fell into the hands of Manuel Batanero. Today only the church, a tower and the façade remain.
Accessibility


What would you improve?